The Islamic Religious Advisor to the Chief of Defence Staff and Service Chiefs Asim Hafiz has called for a more nuanced debate about the role of the armed forces.
In a wide-ranging and exclusive interview for the Religious Reader, Hafiz was critical of those in Muslim and non-Muslim communities who see the army as a singular 'killing machine'.
For Hafiz, the opposite is true: "[The armed forces] brings out a sense of responsibility and spirituality you might not see in the general public. They see issues like life and death far more clearly than those on the street. So I always say to people that soldiers are the best humanitarians I've met.
Again, people might be confused, but primarily their role is to their country, provide peace and security."
The transition from prison to armed forces chaplaincy was not always easy, but he has no regrets: "In 2005, I was appointed as the first Muslim chaplain to the armed forces. At that time, I was a chaplain in the prison service and I saw the post advertised and thought it would be a very interesting and important role.
The war in Iraq was at its peak, Afghanistan was beginning to pick up again. The War on Terror was on everyone's mind and I thought what better place to be engaged as a Muslim," Hafiz said.
But the career change did not meet universal approval, as some reacted with confusion: "Not everyone patted me on the back and said 'Yes, Asim, this is something you should do' – there were some challenges. People did not understand what my role was going to be about. My peers were worried about me going to work for the armed forces."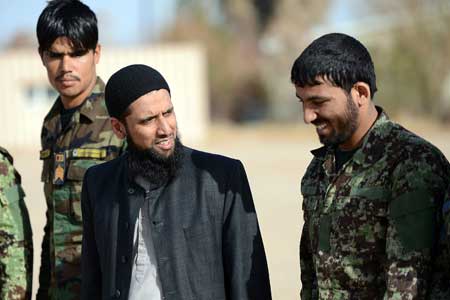 There was an ignorance about what the armed forces do and my argument to them was 'I'm not joining the armed forces to condemn or condone war.
That's not necessarily my job. Just because someone joins the armed forces, does not mean, they are less human. They still have families, children, they have hobbies and some are religious, and they need that support.'"
Hafiz wanted to help his fellow Muslim in the armed forces (a number that now stands at approximately 650), with pastoral care, spiritual and religious guidance. The importance of the latter proved vital, as Muslims now receive guidance within the institution, rather than say, at a mosque, with individuals unaware of the context of their job.
The advice given could of a religious and non-religious nature, as Hafiz explained: "Sometimes soldiers will come to me for a variety of reasons. It can be as simple as what time do I pray? Or something more complicated – Can I keep a beard while I'm in the army? Can I fast and be on operations at the same time? Or do I choose between the two? Or it might be family or financial problems. Or issues with the chain of command."